the earth is a better person than me STEAM KEY GLOBAL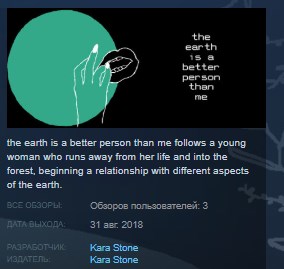 https://store.steampowered.com/app/959710/the_earth_is_a_better_person_than_me/
💎💎💎💎💎💎💎💎
STEAM KEY REGION FREE GLOBAL
the earth is a better person than me is a visual novel following a young woman, Delphine, who runs away from her life and into a forest. She realizes she can talk to the earth around her; she has conversations with the moon about love, dirt about death, a tree about desire. Each path unearths a different aspect of Delphine´s life as she experiences sexuality, sex, self-image, and death.
The game has 6 main paths, sun, moon, dirt, flower, tree, and 16 endings. Each path takes around 15-25 minutes to play.
Definitely rated X
*Content Warnings*
General: sex, nudity, vulgar language, mental illness
Dirt: suicide
Flower: skin picking, hair pulling
Sun: BDSM, self harm
Tree: BDSM
Water: Eating disorders, body dysphoria
---
ИНСТРУКЦИЯ ПО АКТИВАЦИИ:
1. Необходимо скачать и установить Steam http://steampowered.com/download/SteamInstall.msi
2. Зайти под своей учетной записью или зарегистрировать новую.
3. Перейти в раздел "добавить игру" и выбрать "Активировать через Steam...", ввести ключ полученный после оплаты.
Цена:
29
руб.
Купить или узнать подробнее
← Назад на главную страницу